The 12 scariest places in the world
This is a selection of the 12 most mysterious and terrifying places you can find in the world. Cemeteries, abandoned hospitals, dark streets… Clearly, do not you wish you alone and at night on any of the sites. Do you dare descubrirlos?
1. Aokigahara Forest
It is located northwest of the base of Mount Fuji and is also known as the Sea of ​​Trees ¨ ¨. Lo llamativo de este lugar es que es famoso por el grandísimo número de personas que se suicidan en él. Only 2002 were found 78 corpses. As you enter the forest you can see warning signs in all languages ​​calling people to reconsider suicide.
This place became famous among other things for a novel that was written called¨ ¨ nami your en la que los dos amantes principales se quitan la vida en el bosque y porque en ¨ ¨ Complete Suicide Manual publicado en 1993, se nombra este lugar como uno de los mejores del mundo para suicidarse.

Espectacular lugar al que yo no entraría ni por todo el oro del mundo si tenemos en cuenta que in the last 60 years have posted about 7000 suicides.
2. Mary King´s Close
The Mary King's Close is an important commercial alley XVII century located in the old part of the city of Edinburgh (Scotland).
In 1644, plague plague came to town, expanding very rapidly due to fleas and rats. Legend has it that many victims of the disease fueron tapiadas en este lugar hasta que murieron de hambre. The spirits of those people are still wandering through the alley today.
3. Cemetery of giant ships
Located not far from downtown New York we find a place that is completely out of the picture of heaven scratches, burgers and modernity.
In this cemetery we found a 3000 warships were completely abandoned at the end of this. Se dice dice que las personas que han pasado por allí han visto sombras de personas y han escuchado los gritos de los tripulantes antes de morir.
4. The Borley Rectory
Interesting legends are told of getting to know you as ¨la casa más encantada del mundo¨. A monk who lived in the place had a relationship with a nun in a nearby convent. When they tried to escape were caught. They killed the driver, hanged the monk and the nun bricked up in the walls of the convent.
Since then, that you can see the nun through the walls of the rectory, fleeing to avoid worldwide die again.
5. Tuberculosis Hospital of Agramonte
In the mountains of Moncayo (Saragossa) was built in the years 30 a hostel for families with few resources. During the Spanish civil war was abandoned, being sacked and again.
In 1938 the Charity Organization, in Santa Ana made him a mental institution aimed primarily at women but also men and children were treated. In 1978 closed its doors and since then there have been several studies of the place as they came to hear multiple EVP among which the famous: Out of here!
They say that when you enter and view the beds where patients were, you get the feeling that someone is staring at you.
6. La Granja Bell
It is famous for being considered the only documented case in which a ghost killed someone. This story takes place in Tenessee, U.S., where the Bell family lived long terrorized by the spirit of a woman who called Kate ¨ ¨, who tortured and finally killed Jonh Bell, by drinking a deadly poison.
7. Queen Mary
This boat, built in 1937 and so named in honor of the Queen of England, is not only famous for the many battles in which he participated. He is also known for the many ¨ ¨ strange phenomena that have occurred within.
Today it is a luxury hotel in Long Beach, California, but the interesting thing is that many people do not dare to enter, which is understandable if I tell the story of such pools.
It is said that many of the visitors who have entered a ship pool, which is prohibited unless you go with a guide, appeared and disappeared as they saw women dressed in swimsuits of the time, heard the splash of water and even saw footprints of wet feet on the ground.
Many more stories are included in this boat and so I leave this link for you to read some more.
8. Highgate Cemetery
At night, Highgate Cemetery, London, like something out of a horror movie. Tombs, grave, decapitated angels covered by moss and dust, obscure passages that connect the graves, mausoleums, Definitely niches ..., the scariest place in Britain and in which more chances you have to find a ghost. Day, when less scary, we recommend you recorras quietly and enjoy its fantastic gothic architecture of the hand of a guide. Among residents'll find Karl Marx.
By visiting the Church of All Saints, located in the countryside near Kutna Hora, in the Czech Republic, one has the impression that the builders of the ossuary the challenge of creating the most gruesome in the world were imposed.
9. Sedlec Ossuary
Decorated from top to bottom with over 70.000 human bones and skulls, This ossuary seems to be the world's largest open grave. En su origen fue inspirado por una leyenda sobre la santificación del lugar donde se levanta a través de una palada de tierra del monte Calvario, where Christ was crucified. Perhaps that is why, ossuary has been expanding steadily since the fourth century and the locals consider it a honor to have their bones exposed in public macabre catacomb, even as part of a chandelier of skeletons.
11. The Catacombs of Paris
Like other great historic cities, the French capital holds many secrets beneath its streets. One of the most impressive are its catacombs, where thousands of visitors bones await those who dare descend to them. Originally excavated in the cemetery of the Innocents, Parisian catacombs consist of numerous corridors "upholstered" with the skeletal remains of thousands of ancient city dwellers. Thus, those who dare to visit them have to pay very careful to not leave the marked paths, since this system tunnels form a labyrinth that still hides many secrets to discover.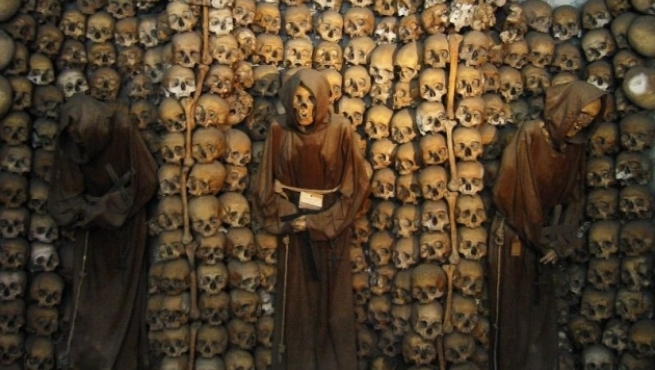 12. Island of the Dolls
This small island in a channel of the Mexican state of Xochimilco offers one of the most frightening pictures that can be found across the globe. Their story began when Julián Santana Barrera, the owner of the island, discovered the body of a little girl in a nearby canal and was convinced that the death was related to evil spirits. To keep the spirits come back and cause more havoc, began collecting dolls and doll parts hanging on trees and around the island, creating a quite disturbing landscape. The man died in 2011, but still dolls hanging from trees. The island, to which you can reach by boat, has become a macabre tourist attraction for the area.